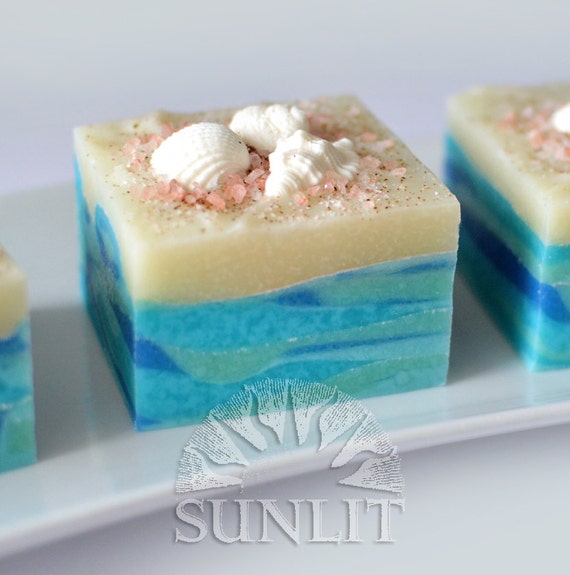 This Monday, I finally had the heart to use one of my gorgeous soaps from Sunlit Soap.
Jan, the owner, is a true artisan when it comes to the soap treasures she creates. Not too far from me in Warrenton, Virginia, she has refused a video interview with me for my blog, but I'm not done trying....
This soap, called "Sunlit Beach", is described as smelling similar to Coppertone sun tan lotion. I did not grow up using suntan lotion and I have to tell you I missed out on a lot! I LOVE (did I say LOVE? because I LOVE) this fragrance! Demure notes of
greenery intermingle with delicate floral essences of jasmine, rose, lavender, and lilac describe this exquisite scent. The soap itself looks deceptively small in the pictures. It is a full 5 ounces and though I thought the square shape would be odd to hold, it fit comfortably in my hand throughout my shower and the lather was dreamy, bubbly and creamy.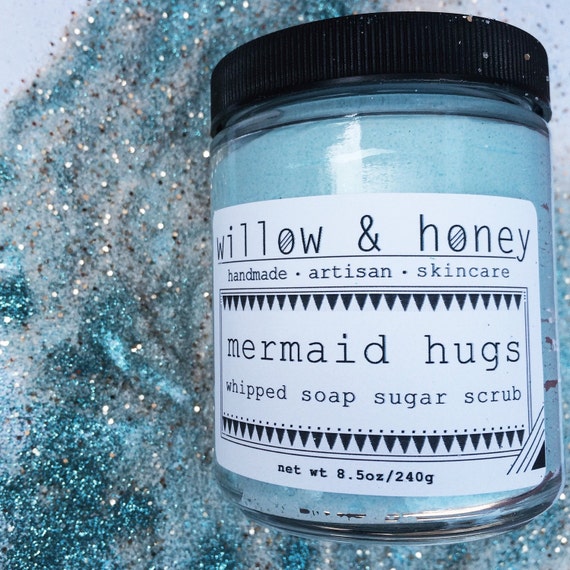 Prior to using the soap, I exfoliated with Willow & Honey's Mermaid Hugs whipped soap sugar scrub. I previously reviewed their Mermaid Hugs soap and I absolutely love this marine scent. The consistency of this whipped sugar soap scrub is best equated with that of sand that is perfectly mixed with the right balance of water to build a sand castle. When you scoop up a bit, you can actually mold it with your hands. The scent is slightly different than that of the bar soap, which is contributed to it being a different product. Not as salty a marine scent, but still nice. This scrub provides light exfoliation and rinses clean. This product has a high content of propylene glycol and I found my skin to be a little itchy after use, due to my sensitivity to this ingredient. But following it with the Sunlit Beach soap and a cream moisturizer alleviated the itch for me.
Philosophy's line of skin care products has always intrigued me, but I have never used their products. My mother, however loves their Pure Grace fragrance and today, I decided to give it a try. By itself, Pure Grace is not a favorite fragrance of mine. Their ode to a pure soap and water clean scent to me, has a light musky undertone that I don't really like. The whipped body creme has an amazing dense creamy texture that is rich and deeply moisturizing.
When I finished up my shower routine with the Pure Grace cream, my skin felt soft and moisturized and the scent layering of all the products left a fragrance that was fresh and water like at its essence with a light almost powder like finish. The Mashup was a hit!
What products are you mashing up this week?
For more #MashupMonday posts click here
Catch you next time, Love Buds ~
Peace, Love & Lots of Bubbles!
A.